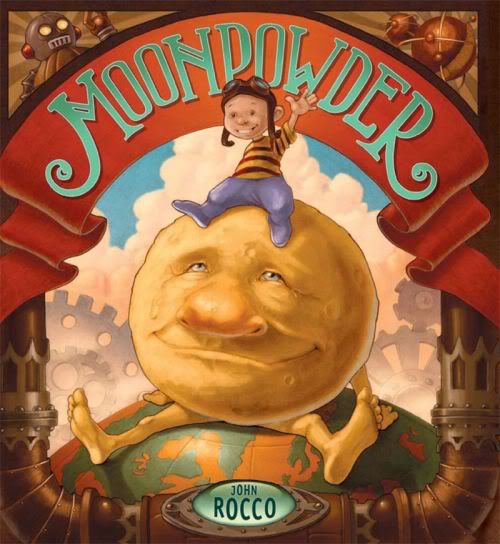 Cover, Moonpowder, written and illustrated by John Rocco (Disney/Hyperion 2008)
I came across a wonderful interview with author-illustrator John Rocco this morning. John's work immediately caught my eye because it reminded me of Tony DiTerlizzi's illustrations for The Spiderwick Chronicles. As you probably already know, Tony is one of my all-time favorite illustrators, so I felt compelled to see more of John's art. (As it turns out, John is influenced by Tony…but I digress.) Although John shares some stylistic similarities with Tony, he has a great style all his own.
John has had quite an interesting career path. Many illustrators do, but John's is the stuff that fairytales are made of! He landed his first book deal when he bravely handed Whoopi Goldberg a promo card during a Tony Awards after party (John was bartending). Whoopi liked his work and asked him to illustrate her children's book manuscript. John did, and then moved to LA, where he worked as a creative director for several companies, including Disney Imagineering. Fifteen years later, John moved back to New York City. He joined the Society of Children's Book Writers and Illustrators, and was discovered at the SCBWI annual conference (See?? It can happen!). John has illustrated five children's books, three of which he has also written, to date.
Getting back to the interview, I thought it was a great, useful read, particularly because John was very forthcoming about his process. A large portion of the article focused on how John conceptualizes and illustrates a full-length picture book. I appreciated that John was willing to share so much with readers. I was also surprised to learn that John usually works digitally, despite his painterly style.
Anyway, if you enjoy reading about the illustration process, I highly recommend checking out the interview over at Seven Impossible Things Before Breakfast!
RESOURCES
Interview with John Rocco: http://blaine.org/sevenimpossiblethings/?p=2143
John Rocco's website: http://www.roccoart.com/home.html