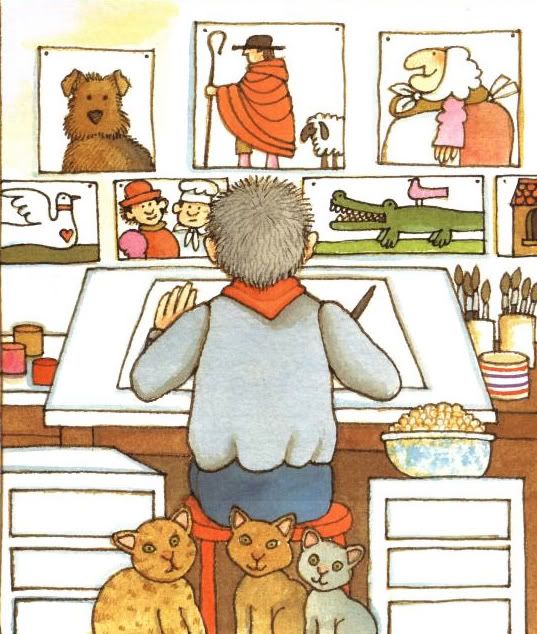 Illustration for The Art Lesson, written and illustrated by Tomie dePaola (Putnam, 1989)
Tomie DePaola is one of my favorite children's book illustrators. I loved his books growing up, and I appreciate them more than ever now that I am working on my own illustrations. Tomie will be giving one of the keynote speeches at the upcoming New England Society of Children's Book Writers and Illustrators' Annual Conference, and I am lucky enough to have the opportunity to go see him. I thought it was fitting to devote today's post to Tomie and his illustration career.
TOMIE: A MINI-BIO
Tomie was born on September 15, 1934, and spent his childhood in Meriden, Connecticut. From an early age, his parents exposed him to the arts—drawing, painting, dancing, singing, and acting. He knew pretty early on that he wanted to be a visual artist—specifically, a children's book illustrator.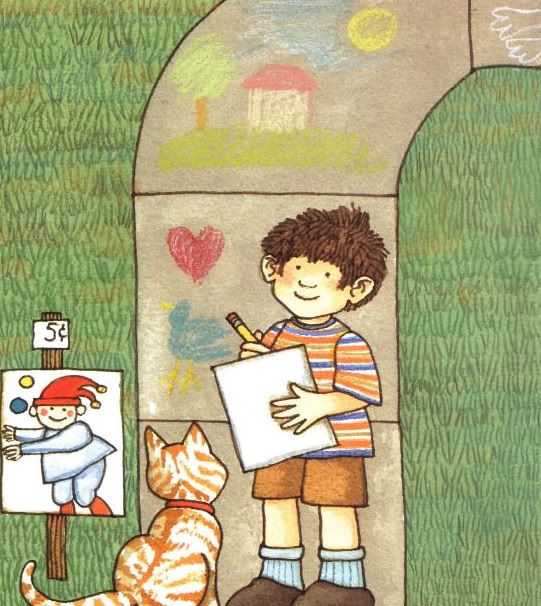 Illustration for The Art Lesson, written and illustrated by Tomie dePaola (Putnam, 1989)
Tomie constantly drew, painted, and danced all through high school. When college rolled around, he decided to attend the Pratt Institute in New York, following in his older cousins' footsteps.
After graduating from Pratt, Tomie did not have instant success. Two years passed before he got his first job illustrating a book called Sound. A year later, Tomie got another book deal, which was his first project writing and illustrating a picture book (The Wonderful Dragon of Timlin).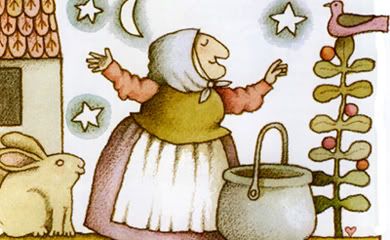 Illustration from Strega Nona, written and illustrated by Tomie dePaola (Putnam, 1979)
Since then, Tomie has gone on to become one of the most prolific children's book author-illustrators in history. To date, he has written over 100 books, and illustrated over 250 books! He has received a Caldecott Honor Award (Strega Nona, 1976), a Newbery Honor Award (26 Fairmount Avenue, 2000), and several lifetime achievement awards, including the Laura Ingalls Wilder Award (2011).
Tomie lives and works in New London, New Hampshire with his Airedale, Brontë.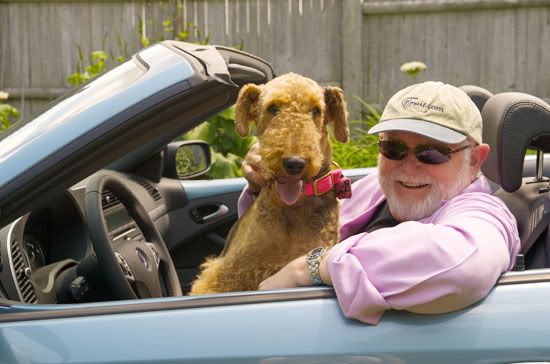 Tomie and Brontë
(Photograph by Julie Maris/Semel via Tomie's website) 
TOMIE, THE ILLUSTRATOR
Tomie is known for his distinctive, deceptively simple style: bold outlines, washes of bright color, and very linear compositions. However, as many illustration students soon realize, simplicity is anything but easy to achieve. Tomie has a full mastery of his technique and characters when he works in his minimalist line-and-wash style. He can indicate a facial expression in four lines! Every mark counts, and there is no way to hide a mistake when working in translucent washes of paint.
Not only has Tomie achieved such a recognizable style, but he has (amazingly) sustained that consistency over a forty-year career. Each and every one of his books "looks" like him.
A quick story told to me by an illustration professor: Trina Schart Hyman was good friends with Tomie. One year, Trina wanted to surprise Tomie for his birthday, by painting an illustration for him using his style. She thought it would be easy, but it was way harder than she'd ever imagined!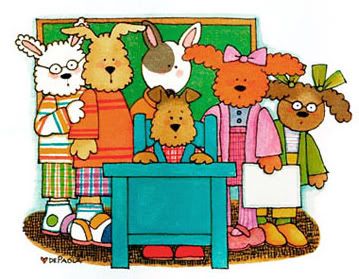 Cover illustration from Trouble in the Barkers' Class, written and illustrated by Tomie dePaola (Putnam, 2003)
TOMIE, THE AUTHOR
Beyond his wonderful ability as an illustrator, Tomie is also a terrific writer. His writing style is quite similar to his illustration style—straightforward, concise, and clean. He strikes a perfect balance between illustrations and words, something that most children's book creators strive for.
Many of Tomie's books are autobiographical. He is a gifted storyteller, and it is obvious that he writes from the heart. Reading one of Tomie's books is like listening to him talk about a favorite childhood memory. This is one of the main reasons that I love his writing so much!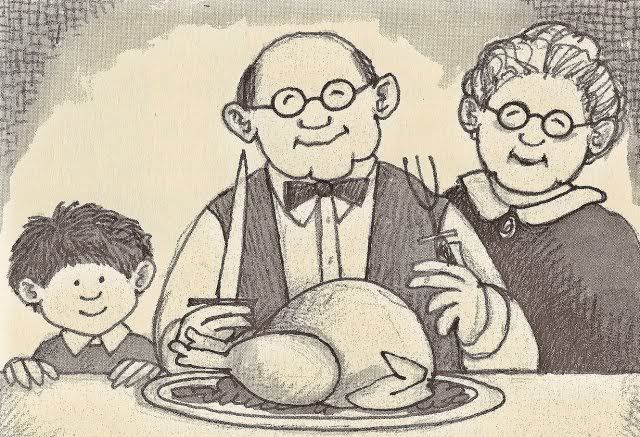 Illustration from What A Year, written and illustrated by Tomie dePaola (Putnam, 2002)
RESOURCES
To learn more about Tomie, his career, and current work, please visit the following links:
Tomie's website: www.tomie.com
Tomie's blog: http://www.tomiesblog.blogspot.com/
Also, this book is a great resource (I own it!):
Tomie dePaola: His Art and Stories, written by Barbara Elleman with a preface by Trina Schart Hyman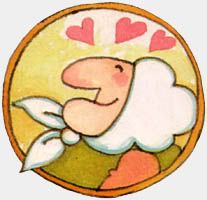 Illustration from Strega Nona, written and illustrated by Tomie dePaola (Putnam, 1979)